---
Please contact us
Please make all inquiries and reservations by telephone.
(843) 524-3177
Paul J. Michau owns the Old Point Inn. Paul is a retired Coca-Cola Company Exectuvive who has lived around the world and has changed residences 24 times. He knows what it takes to move, relocate- and most importantly how to buy and sell a home. Paul and Julie have owned property in the Low Country for the past 15 years, and have extensive knowledge of the environs.
---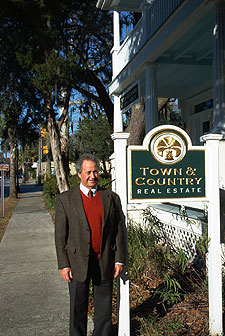 Many of the Old Point Inn guests are looking for real estate in Beaufort so to offer an additional service to his guests, Paul decided to get his real estate license and join the prestigeous sales team at Town and Country. Let him help you with all all your Real Estate needs. Whether buying or selling a home Paul will make this an enjoyable experience for you. Learn more about Town and Country Real Estate and what we have to offer by visiting our website atwww.townandcountry-homes.com If you are thinking of relocating to the Low Country come and stay with us at The Old Point Inn and enjoy the special benefits listed below.
Ten percent discount on Sultans Chamber or Old World room minimum two night stay.
Free Horse Drawn Carraige ride for two.
Personalised tour of available homes based on what your needs are.
Call Paul for more information at 843-810 3440.